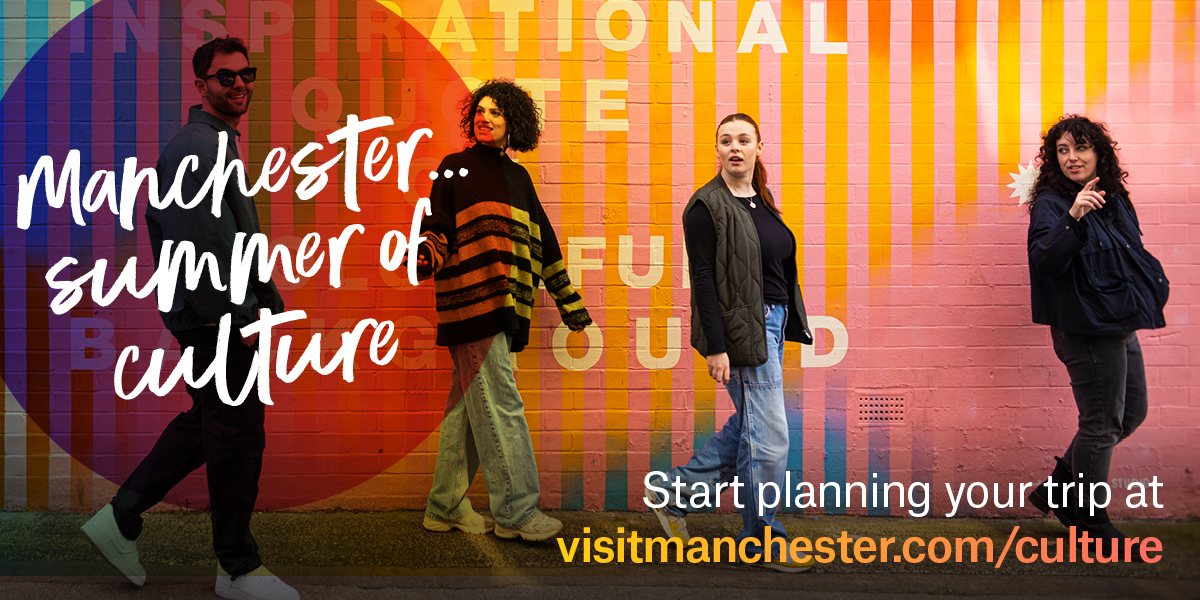 This week marks the launch of the Manchester Accommodation BID's first dedicated marketing campaign funded by the City Visitor Charge and managed by Marketing Manchester – the Accommodation BID's delivery partner for campaign activities.
This initial campaign has two strands, both with the objective to raise awareness of Manchester's summer offering and to stimulate demand for overnight stays at accommodation establishments within the Manchester Accommodation BID Zone, and both running until end of August to help counteract inconsistencies in occupancy levels that are often experienced in Manchester throughout the summer months.
The first strand is domestic in scope, targeting UK-based Experience Seekers and Families. It utilises a partnership with Expedia to target consumers interested in and searching for trips within the UK, that also align to the Experience Seeker and Family traveller profile. This full funnel approach will incorporate prospecting and re-targeting, incorporating display ads both onsite and offsite via Expedia's Passport Ads, raising awareness of Manchester and its summer offering, whilst also driving conversions.
The second strand is focused on the Irish market, also targeting Experience Seekers and Families. The campaign will be delivered in partnership with the travel marketing platform, Sojern. Using an upper-funnel approach, Sojern will reach in-market travellers for Manchester and the UK, encouraging them and inspiring them to stay longer in Manchester and enjoy what the city has to offer.
Annie Brown, Chair of the Manchester Accommodation BID, said: "We are thrilled to see the launch of our first dedicated Manchester Accommodation BID marketing campaign, signalling the beginning of an exciting period for our city's hoteliers.
"With focused efforts to raise awareness and drive demand, we aim to showcase Manchester's vibrant summer offerings and counteract seasonal occupancy fluctuations.
"This campaign looks to supplement the ongoing international work of Marketing Manchester, who will be supporting us in its delivery as we look to inspire both domestic and international travellers, urging them to explore Manchester and create lasting memories." 
In addition to the above campaigns, Marketing Manchester is also helping the Accommodation BID to produce a seasonal map that will highlight events throughout the Autumn months, encouraging repeat visits to Manchester. These maps with be distributed via Accommodation BID providers.
Download our summer campaign media pack here.
About the Manchester Accommodation BID
The Manchester Accommodation BID is a ground-breaking new initiative led by the city's hotel and serviced apartment providers to help create new events and additional activities that will attract more people to visit and stay in Manchester and Salford.
At its core, the Manchester Accommodation BID will deliver better visitor experiences and additional activity to drive more staying visitors. It will allow Manchester to better compete in a global market and grow overnight visits at a time when an unprecedented level of supply is set to join the Manchester and Salford accommodation market, with an additional 5,850 confirmed new bedrooms incoming across the city-region over the coming years.
Manchester Accommodation BID activities are funded by the City Visitor Charge; a supplementary £1 Charge per room/unit per night for guests, added to the final accommodation bill. The Charge is collected from all paid accommodation establishments that fall into the Manchester ABID zone and has been applicable to all bookings from 1 April 2023.
Funds will be used to: amplify marketing campaigns that drive overnight stays; help secure large-scale events, conferences, and festivals in low-season months; improve guest welcome and street cleanliness; and provide opportunities to futureproof the city's growing accommodation sector and wider visitor economy.
For media enquiries, please contact:
Manchester Accommodation BID Communications Team
Email: press@manchesterabid.com | Tel: 07789988741