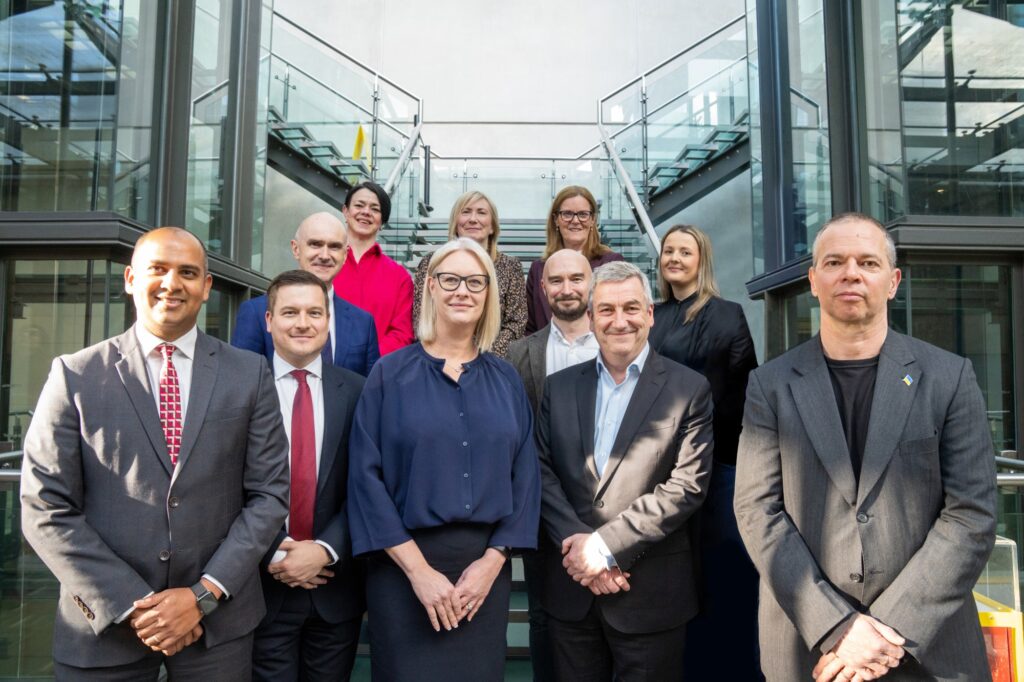 Annie Brown, General Manager of Hampton by Hilton Manchester Northern Quarter, has been confirmed as the first Chair of Manchester's ground-breaking new Accommodation Business Improvement District (BID).
Sitting for their first official meeting on Tuesday 7 March, the Manchester Accommodation BID Board formally ratified the new organisation before voting Annie Brown, General Manager of Hampton by Hilton Manchester Northern Quarter, as their inaugural Chair.
Annie will lead a Board of nine representatives, comprised of five hotel and serviced apartment representatives that each cover a different accommodation category, as well as representatives from Marketing Manchester, CityCo Manchester, Manchester City Council, and The Growth Company.
Alongside her role as Chair, Annie will also represent the Budget Hotel category, with Spencer Aldred, General Manager at Cove – Minshull Street representing Small Serviced Apartments, Sophie Atalay, Hotel Manager at StayCity Group representing Large Serviced Apartments, Kumar Mishra, General Manager at The Edwardian Manchester representing Large Hotels, and Matt Townley, Regional Operations Director at Dakota Hotels representing Small Hotels.
Sheona Southern, Managing Director at Marketing Manchester, Vaughan Allen, Chief Executive at CityCo Manchester, Rebecca Heron, Strategic Director of Growth and Development at Manchester City Council, and Paul Simpson, Chief Financial Officer for The Growth Company, fill the non-accommodation sector posts.
Additionally, Bernie Vaudrey, Head of Business and Inward Investment at Salford City Council and Adrian Ellis, Chair of the Manchester Hoteliers' Association – who has been instrumental in developing the Manchester Accommodation BID – will attend Board meetings as official observers.
Speaking about her new role as Chair, Annie commented: "I'm delighted to have been asked to Chair the Manchester Accommodation BID. This is a really exciting initiative, and the first in the country of its kind, which is starting at exactly the right time, just as Manchester takes a big step up to attract more visitors, business, events, and global attention.

"The accommodation sector in and around Manchester is growing rapidly, with almost 6,000 new bedrooms incoming over the next few years, and the goal of the Manchester Accommodation BID is simple – we need to increase overnight stays in the city in line with that growth so that businesses like mine can continue to thrive and make the most of this new era for the local visitor economy.

"I've been involved in Business Improvement Districts around the country for a long time, and after years of talking about it, we've finally found a way to apply it to the accommodation sector without creating an additional cost for the hotels and serviced apartments involved – it is all wrapped up in the City Visitor Charge, payable by guests.

"So, I'm looking forward to working with my colleagues on the Board to steer the Manchester Accommodation BID in the right direction, making sure we're squeezing everything we can out of every pound we take from via the City Visitor Charge, and being part of the first Accommodation BID in the country – another Manchester first."
Australian native Annie has had a distinguished career as a hotelier that has taken her from Western Australia to Manchester via London, the Midlands, and Scotland. Her first involvement with BIDs was in Stratford whilst General Manager at The Stratford and she has sat on the Board at both Marketing Cheshire and CityCo Manchester whilst General Manager at the Park Royal in Warrington and Regional Managing Director – North of Macdonald Hotels & Resorts, based at the Macdonald Manchester, respectively.
Annie became General Manager at the Hampton by Hilton Manchester Northern Quarter in September 2022.
-ENDS-
About the Manchester Accommodation BID
The Manchester Accommodation BID is a ground-breaking new initiative led by the city's hotel and serviced apartment providers to help create new events and additional activities that will attract more people to visit and stay in Manchester and Salford.
At its core, the Manchester Accommodation BID will deliver better visitor experiences and additional activity to drive more staying visitors. It will allow Manchester to better compete in a global market and grow overnight visits at a time when an unprecedented level of supply is set to join the Manchester and Salford accommodation market, with an additional 5,850 confirmed new bedrooms incoming across the city-region in the coming years.
Manchester Accommodation BID activities will be funded by the City Visitor Charge; a supplementary £1 Charge per room/unit per night for guests, added to the final accommodation bill. The Charge will be collected from all paid accommodation establishments that fall into the Manchester ABID Zone and will be applicable to all bookings from 1 April 2023.
Funds will be used to: amplify marketing campaigns that drive overnight stays; help secure large-scale events, conferences, and festivals in low-season months; improve guest welcome and street cleanliness; and provide opportunities to futureproof the city's growing accommodation sector and wider visitor economy.
For media enquiries, please contact:
Manchester Accommodation BID Communications Team
Email: press@manchesterabid.com | Tel: 07789988741